By clicking on Preferences via the app's Settings cog, you are able to adjust your exclusion settings, manual time prompt settings and adjust language settings. Preferences are broken down into three categories - General, Exclusions and Updates (1).
Navigate between the different preference categories
Set when your day starts the next day if you pause your app. 
Set your manual time prompt preference (see below)
Set for WiseTime to start automatically when you restart your computer
Quickly link to the WiseTime User Guide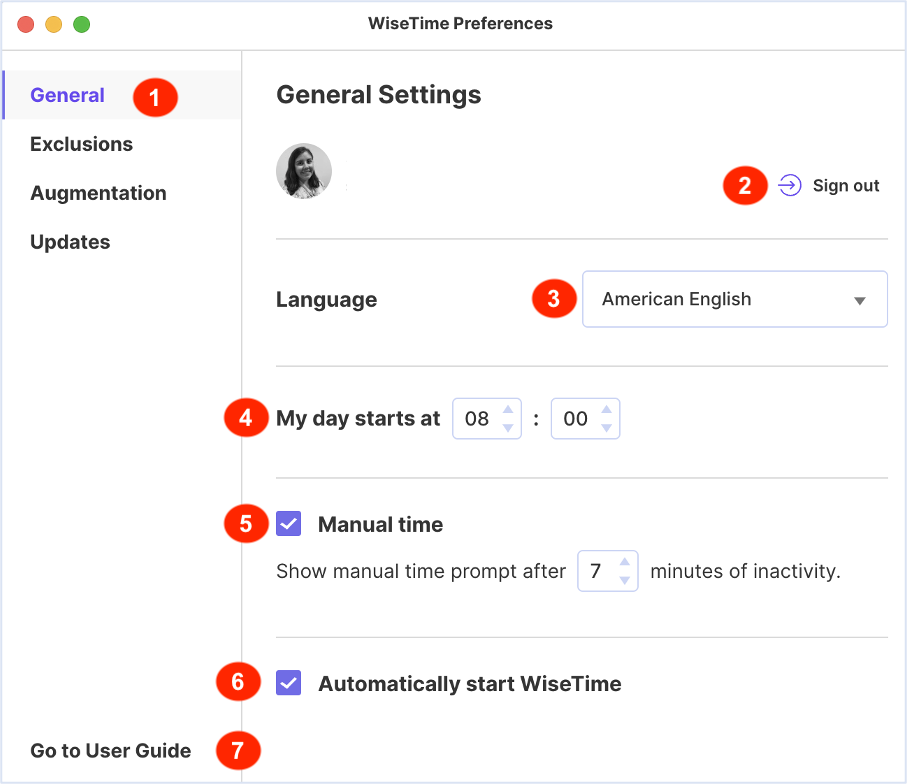 Inactivity Manual Time Prompt

The manual time prompt is a helpful reminder for logging offline activity. If enabled, the app will use your set time preferences to detect inactivity (e.g no mouse or keyboard activity) and prompt you to add time manually to your timeline upon your return. You can set the length of inactivity that triggers the prompt: the setting is adjustable from 2-10 minutes.
If you do not wish to record the time, you can simply ignore the notification.
If you click on the prompt, a pop-up window will appear, giving you options to categorise your time and type a description, as well as adjust the amount of time logged.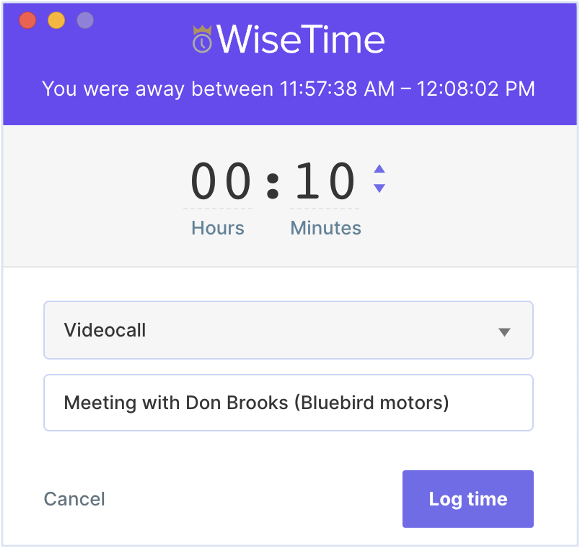 If you do not click on the prompt, it will remain in the notifications pane of your desktop app. You can click the relevant notification to add manual time, or choose to clear the notification by clicking the 'x'.
Keep in mind you can also add manual entries at any time in your Timeline.

My notifications still aren't appearing!
Depending on your operating system set-up and preferences, your WiseTime notifications (eg. Add Manual Time prompt) may be blocked from appearing on your desktop. In both MacOS and Windows, WiseTime notifications will not pop up if you have activated Do Not Disturb (Mac) or Focus Assist (Windows 10) mode in your desktop settings. Notifications will, however, continue to be displayed in your desktop message centre or notification history, as well as the WiseTime app notifications pane.
Add WiseTime to Focus Assist Priority List (for Windows 10 users):
To access Focus Assist, open the Windows 10 Settings screen found on the Start Menu, then click the System link
Use the left navigation bar to click on the Focus Assist link
In the Focus Assist settings, beneath the Priority Only toggle button, click the 'Customize your priority list' link
Scroll to the Apps section of your Priority List and click 'Add an app'
Select WiseTime from the app list.