In your profile you can edit your personal settings and preferences and get an overview of your team memberships. Here you can edit:
Your full name

Password

Opt-in to receive a warning about posting time to multiple matters.

Delete your individual account.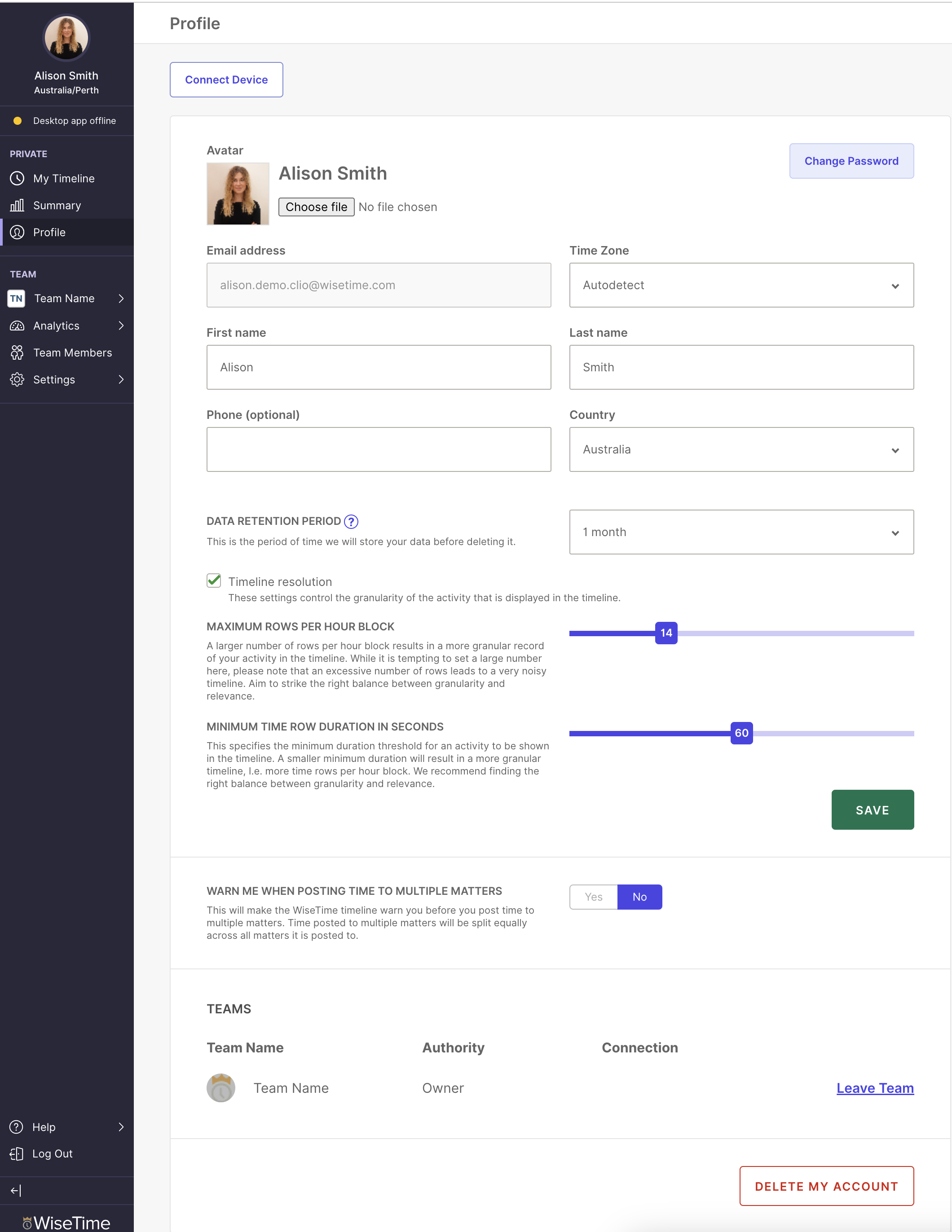 Timezone Handling
Whether you start your day in New York and finish it in Chicago, or if you're going halfway around the globe, WiseTime's clever timezone detection will always detect the local time you were working in and document the changes. This make it easy for professionals that travel frequently to effortlessly and seamlessly keep track of their activity as they move from one city to another. Read more here.
Personal Data Retention
The personal data retention settings allow you to control how long we store your personal timeline data for independently of your team data retention settings. This gives you even more control over the way your private data is managed.The personal data retention period is the period of time we will keep your data for. This means anything older than the time period you set will be permanently deleted. Read more here.
Customise settings for Time Rows
With the Timeline Resolution you can now select the maximum number of rows displayed within an hour block and the minimum time row duration in seconds for your Timeline. Once you have set your timeline resolution settings with the sliders, make sure you click 'Save'.
The maximum rows per hour block ranges from 10-25 rows that can be displayed. The larger the number of rows selected for the hour block the more granular the detail but this can cause your timeline to become more busy.
The minimum time row duration ranges from 30-60 seconds and specifies the minimum duration for an activity to be shown in the Timeline. The smaller the minimum duration, the more granular the detail will be in your timeline.
If you choose not to configure these settings, you will default to 14 rows per hour block with a minimum time row of 60 seconds.