By connecting WiseTime to Lawcus attorney's will find a while new level of productivity and administrative ease. With the power of the Lawcus practice management system combined with our AI, autonomous timekeeper, you can send better bills and faster. Decrease your workload by outsourcing your timekeeping to us today. 
The Lawcus Connection is available as part of the Pro Plan. Upgrade from the Team Settings page to get connected. 
Connecting WiseTime to Lawcus
To connect WiseTime to Lawcus, you must first have a WiseTime account for the administrator user that will authenticate the connection for your whole team. We usually recommend setting up an email alias such as wisetimeconnector@yourcompanyname.com to use to authenticate the connection.
Please note: Only one user of your Lawcus team needs to create the connection for all users to be able to use WiseTime with Lawcus. We recommend a generic alias email for this, but it can similarly be the owner of the team or any other team member that authenticates the account. 
Once you have set up the WiseTime account for your authenticating user you can create your Lawcus Connection. 
Follow the steps below to set-up your Connection: 
Go to the online console at wisetime.com/console
Click on the

 

"Settings"

 

page from the left-hand menu
Scroll down to 'Connections', and

 

click on "New Connection"
Then use the dropdown menu to select Connection Type "Lawcus"
You will then be directed to Lawcus to authenticate your account. If you are not already logged into your Lawcus account, you will be prompted to log in before you can connect.
You will then need to allow WiseTime access to connect to your Lawcus account.
Once done, you will be redirected back to the WiseTime console and your new connection will appear listed under 'Connections'
Your WiseTime-Lawcus connection is now up and running. Please note that it may take a few minutes to sync all of your matters from Lawcus.
Note: either the email address used when registering to WiseTime or the 'external user id' must match the email address used in Lawcus for the user to be able to post time.
Connector property settings:
After you create your connection, you can re-authenticate the connection (1) from the settings page at any time. This may be necessary if your Lawcus connection is lost due to an issue with your Lawcus subscription, or if the user who initially authenticated the connection has left your WiseTime team.
The connection settings below can be used by system administrators to manage advanced properties for your connection. Please note that these are optional settings and are not required for the connection to function. 
Available properties to configure:
ADD_SUMMARY_TO_NARRATIVE (2) can be set as TRUE or FALSE. It determines if the summary of your narrative will be sent to your connected system by default.
ACTIVITY_TYPES_NON_BILLABLE (3)

can be set up to bill time in increments.

By default Lawcus doesn't do any rounding but if users want to bill in increments they can specify number of seconds to round to. For example, for 6 minute increments you could set the rounding to 360 seconds. This will round to 1 decimal after dot when represented in hours.  36 seconds would round to second digit after dot. Time is always rounded up, so if user posted 2 minutes and specified rounding to 6 minutes, it won't round down to 0 min, it will round up to 6min.
SHOW_CLOSED_CASES (4) can be set TRUE or FALSE. If marked FALSE, WiseTime will not import the matter IDs of Lawcus matters marked as 'Closed'. Correspondingly, WiseTime will not automatically tag any time rows to a closed case.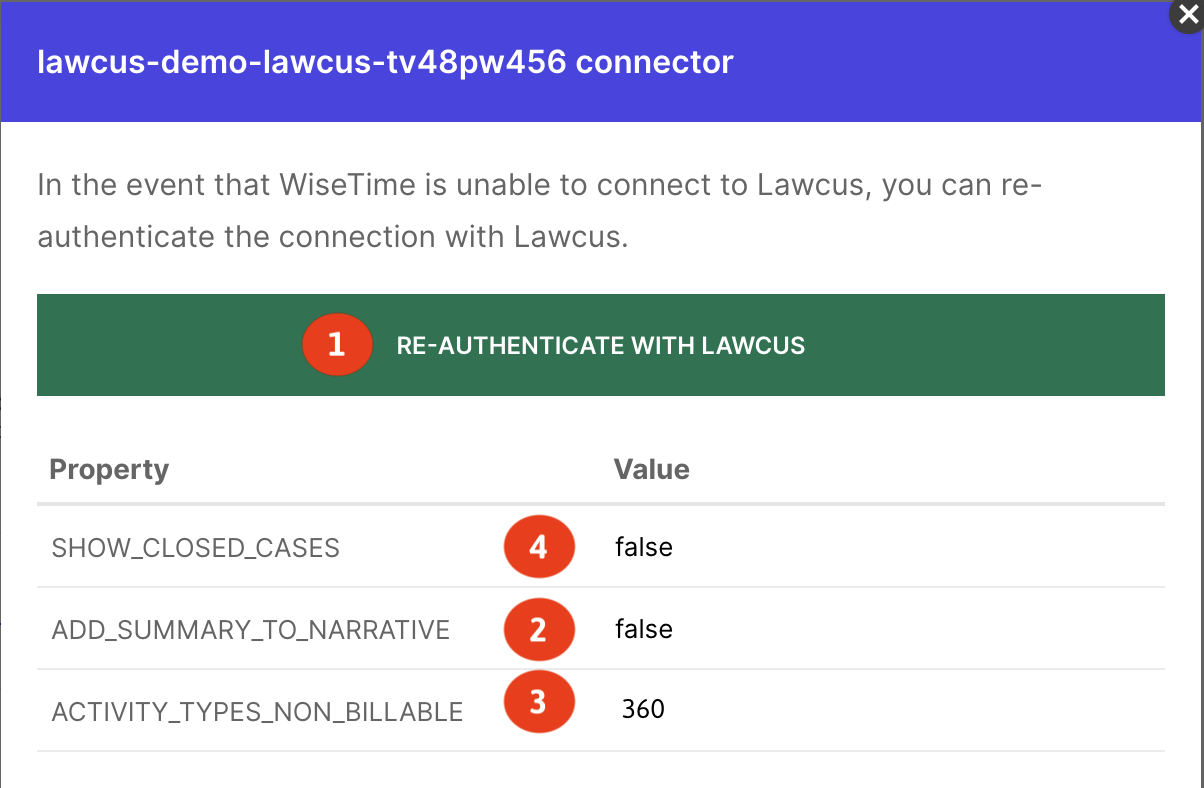 Using WiseTime with Lawcus
Your Lawcus Matter's are automatically identified
Once your connection is up and running, your Lawcus matter references will flow through to WiseTime. You will see them on the 'tags' page, accessible from the left side menu. When a new matter is created in Lawcus, it will also be created as a tag in WiseTime. WiseTime will then automatically assign tags (or matters) to any activities with matching references. You do not need to do anything to ensure that this happens. 
To make the auto-tagging more effective, you can also add additional key words to your matters that assist WiseTime to tag the matter correctly. Take note that WiseTime will then tag that matter every time that keyword is identified, so make sure it is unique to that matter only. Learn more about adding keywords and editing tags here. 
WiseTime also utilises AI technology to assist with tagging matters correctly. Our AI will detect patterns based on the matters that you allocate to activities. It will then make suggestions to you based on these. As you either accept or reject the suggestions, the AI will continue to learn and get smarter and smarter. As it suggest more and more relevant matters, it makes the process of assigning time to matters really fast for you. You can learn more about AI Assisted Tagging here. 
Send your activity seamlessly to Lawcus for fast billing
Now that these two key systems are connected, you can truly reduce your administrative workload. WiseTime captures your days activities, even categorises them for you with the corresponding Lawcus matter references, and you can send them directly to billing. 
Your timeline within WiseTime is a blueprint of your day, but it is not final or billed to your clients until you review it and decide to share it. You can review the entries, make any changes to the time or descriptions on the activities, and adjust any matter references, before sending it to Lawcus. When you are ready to send it to Lawcus you can simply select the activity you want to send and click 'post'. It will then go directly to the activities within your Lawcus account without any further manual entry. It is now ready to be billed. Learn more about posting your time here.