The WiseTime for Rocket Matter connection gives attorneys time for more by taking timekeeping off their to-do list. The WiseTime app works by capturing the attorney's activity as they work, without interrupting their workflow. With Rocket Matter connected, matter IDs are automatically detected so time can be sent directly to Rocket Matter, ready to be invoiced - no manual entry or start-and-stop timer required. 
The Rocket Matter Connection is available as part of the Professional & Enterprise Plan. 
Connecting WiseTime to Rocket Matter
To connect WiseTime to Rocket Matter, you must first have a WiseTime account for the administrator user that will authenticate the connection for your whole team. We usually recommend setting up an email alias such as wisetimeconnector@yourcompanyname.com to use to authenticate the connection.
Please note: Only one user of your Rocket Matter team needs to create the connection for all users to be able to use WiseTime with Rocket Matter. We recommend a generic alias email for this, but it can similarly be the owner of the team or any other team member that authenticates the account. 
Once you have set up the WiseTime account for your authenticating user you can create your Rocket Matter Connection. 
Follow the steps below to set-up your Connection: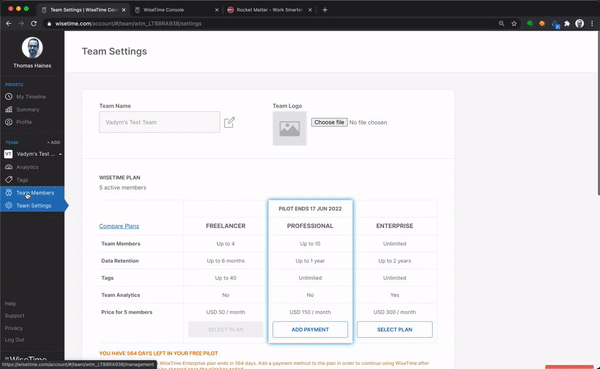 Go to the online console at wisetime.com/console
Click on the "Team Settings" page from the left-hand menu
Scroll down to 'Connections', and click on "New Connection"
Then use the dropdown menu to select Connection Type "Rocket Matter"
You will then be directed to Rocket Matter to authenticate your account. If you are not already logged into your Rocket Matter account, you will be prompted to log in before you can connect.
You will then need to allow WiseTime access to connect to your Rocket Matter account
Once done, you will be redirected back to the WiseTime console and your new connection will appear listed under 'Connections'
Your WiseTime-Rocket Matter connection is now up and running. Please note that it may take a few minutes to sync all of your matters from Rocket Matter.
Note: either the email address used when registering to WiseTime or the 'external user id' must match the email address used in Rocket Matter for the user to be able to post time.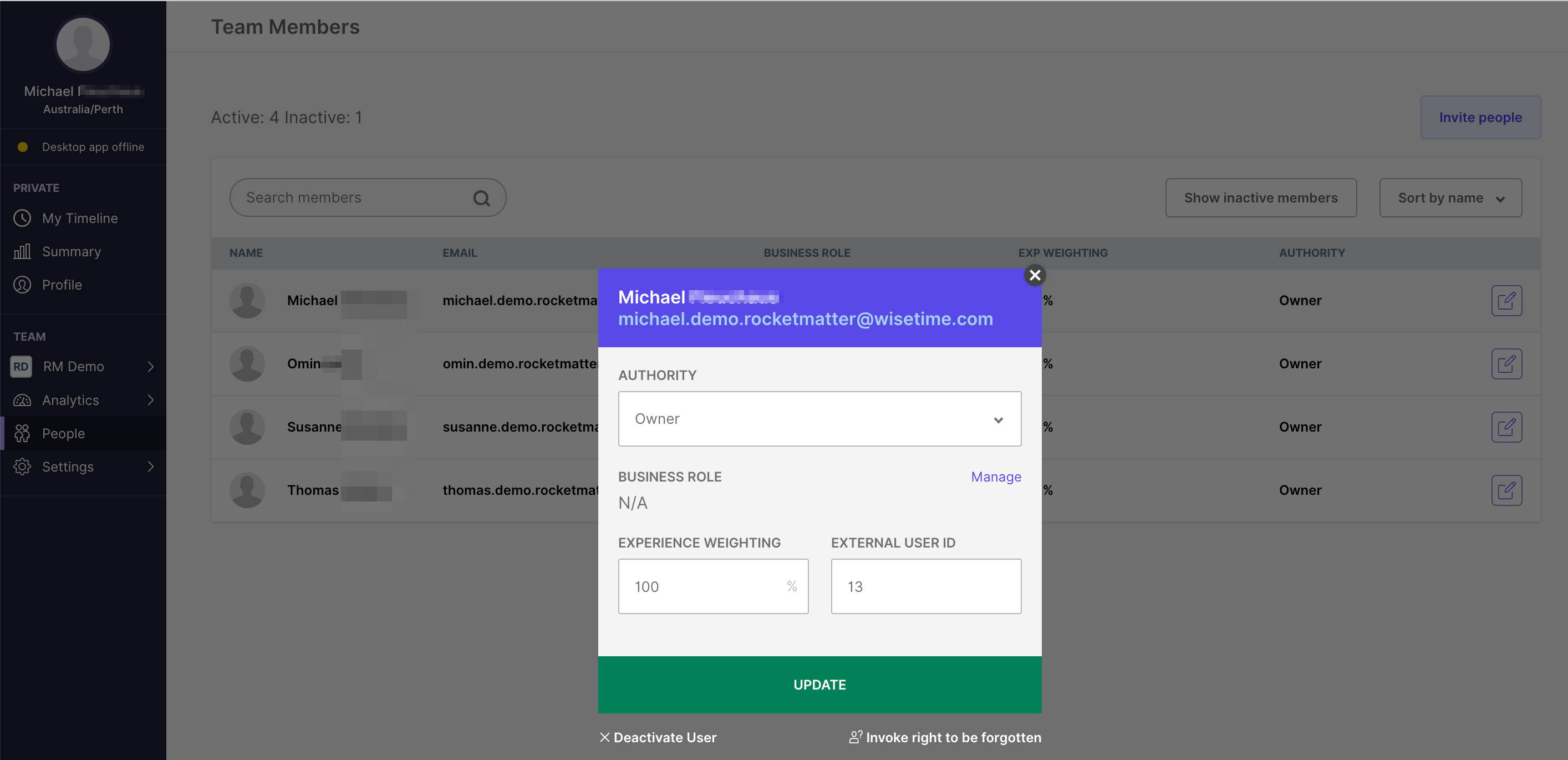 Connector property settings:
After you create your connection, you can re-authenticate the connection (1) at any time. This may be necessary if your Rocket Matter connection is lost due to an issue with your Rocket Matter subscription, or if the user who initially authenticated the connection has left your WiseTime team.
The connection settings below can be used by system administrators to manage advanced properties for your connection. Please note that these are optional settings and are not required for the connection to function. 
Available properties to configure:
SHOW_CLOSED_CASES (2)

 

can be set TRUE or FALSE. If marked FALSE, WiseTime will not import the matter IDs of Lawcus matters marked as 'Closed'. Correspondingly, WiseTime will not automatically tag any time rows to a closed case.
ADD_SUMMARY_TO_NARRATIVE (3)  can be set as TRUE or FALSE. It determines if the summary of your narrative will be sent to your connected system by default.
TIMEZONE (4) set the timezone that your team is in for WiseTime to ensure that posted time aligns to the date/time that you are posting in.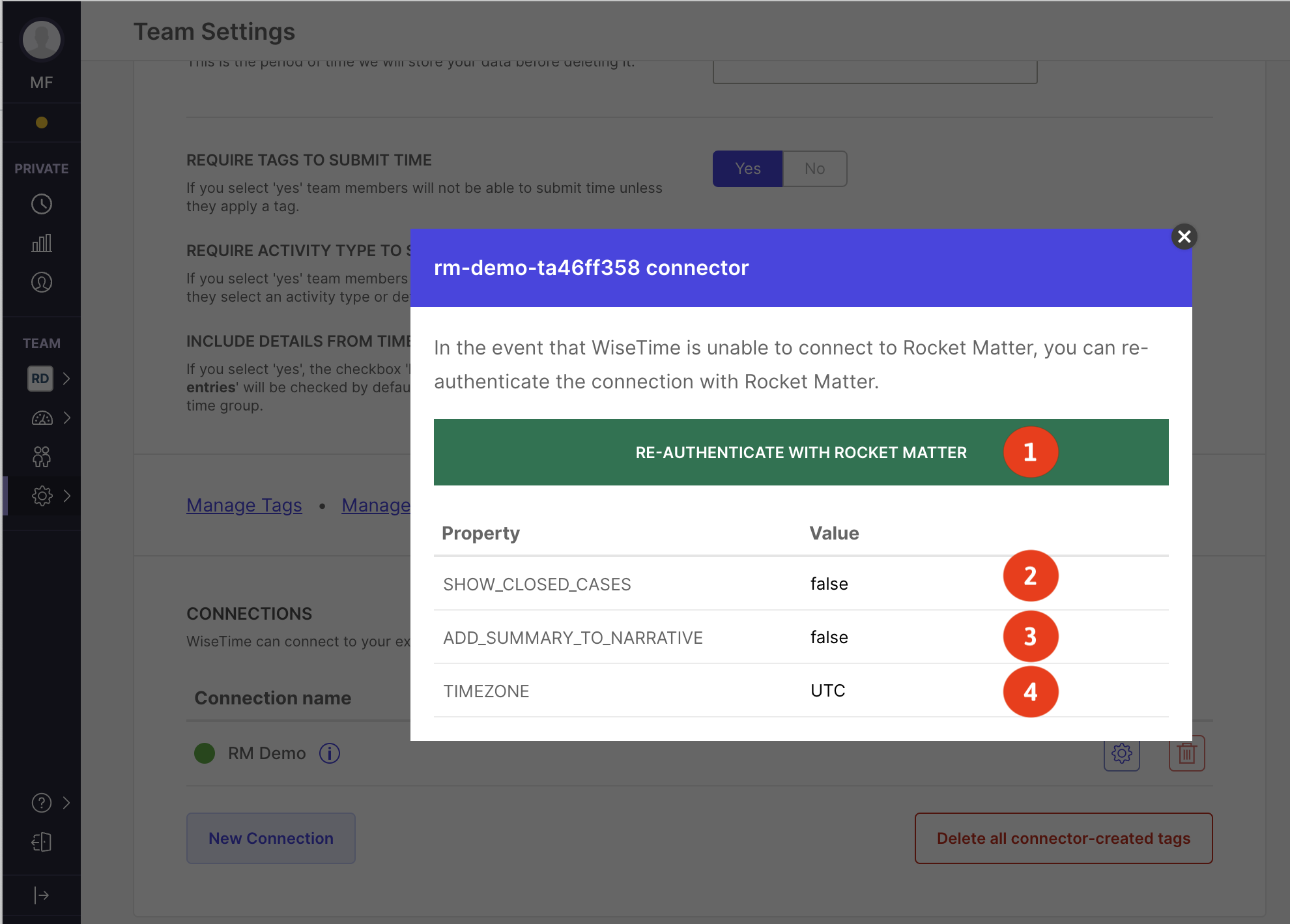 Using WiseTime with Rocket Matter 
WiseTime for RocketMatter will do wonders for your efficiency
WiseTime is for attorneys with more important things to do than timekeeping. We know the trouble of losing time because you were too busy to record it.
WiseTime relieves you of the need to remember your time, or press start and stop on a timer. WiseTime passively captures your activity while you work and collates it in a private timeline, ready to review.
Imagine never having to manually record a minute, and still reaching 5 o'clock with a detailed draft of your day's activity.
Your Rocket Matter IDs are automatically identified
With WiseTime connected to Rocket Matter, your matter IDs are synced directly from Rocket Matter to WiseTime. This means any Rocket Matter IDs that appear within your activity timeline are automatically recognised by WiseTime as tags.
WiseTime uses the title of your active window so that any document or email that you work on with the matter ID present in the document name or subject line will be automatically assigned to the correct matter.
Send your activity seamlessly to Rocket Matter
Everything in your timeline is 100% private to you, so you can review your day's work, assign any additional matter IDs to an activity or add descriptions before you choose which activities to send to Rocket Matter. With Rocket Matter connected, all your activity is ready to be invoiced when you send it to Rocket Matter.
Effortlessly create detailed invoices
With WiseTime as your memory, you won't miss a minute and your timekeeping will be detailed and meticulous – all without any manual input from you.
Now you can easily send clients invoices that show them exactly where your attention was.
Bill faster and bill better with WiseTime connected to Rocket Matter.