The Activity Summary Tiles in the right hand pane of your WiseTime console show you a real time scrolling overview of your captured activity. This is a great way to see how your week or month is tracking and to jump to a specific date. As you hover your mouse over the squares, dates and month stamps will appear on the squares

The menu next to the day labels allows you to switch the tiles between Grid and Graph modes.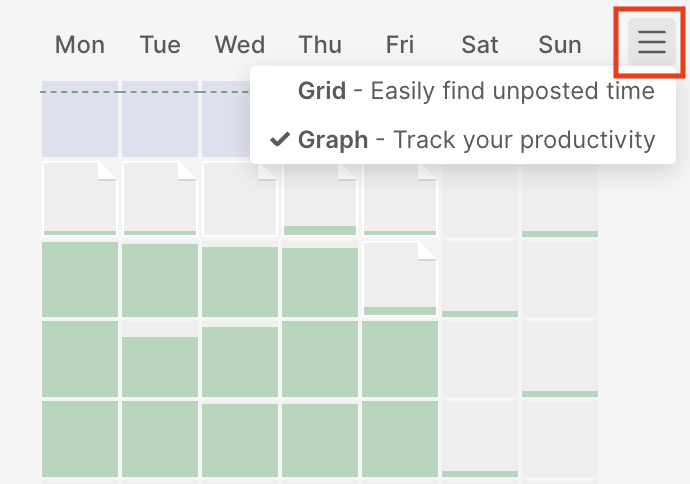 Grid Mode
Grid mode allows you to easily find any un-posted time within your days. Any day that has time left un-posted will be shown as a shade of blue while any day where all time has been posted will be shown as a shade of green.
As you can see from the following screenshot, even a small amount of un-posted time makes the days' tile appear blue. The different shades help to denote the quantity of activity captured on that day:
Light green: small amount of posted time
Dark green: larger amount of posted time
Light purple: small amount of un-posted time
Dark purple: larger amount of un-posted time
Graph Mode
Graph mode helps you to track your productivity across the days. If you have time posting goals set up, the dotted line across the calendar dates shows you your goal to enable you to very quickly see how you are tracking against it. 
You will also see a little + symbol in the corner of any day that you are hovering over. You can click on this + symbol to add leave for that day. You are able to add a half day or a full day of leave to your calendar. When this is recorded against your timeline, you will see the relevant day marked with a folded corner.

When leave is applied to a day, the time posting goal line is automatically amended to account for this.