My posted time isn't appearing in my connected system.
You will want to verify that:
The email address used for your WiseTime account, or the `external user-id`, matches the email address used in the connected system. Without this match, the user will not be able to post time to the system.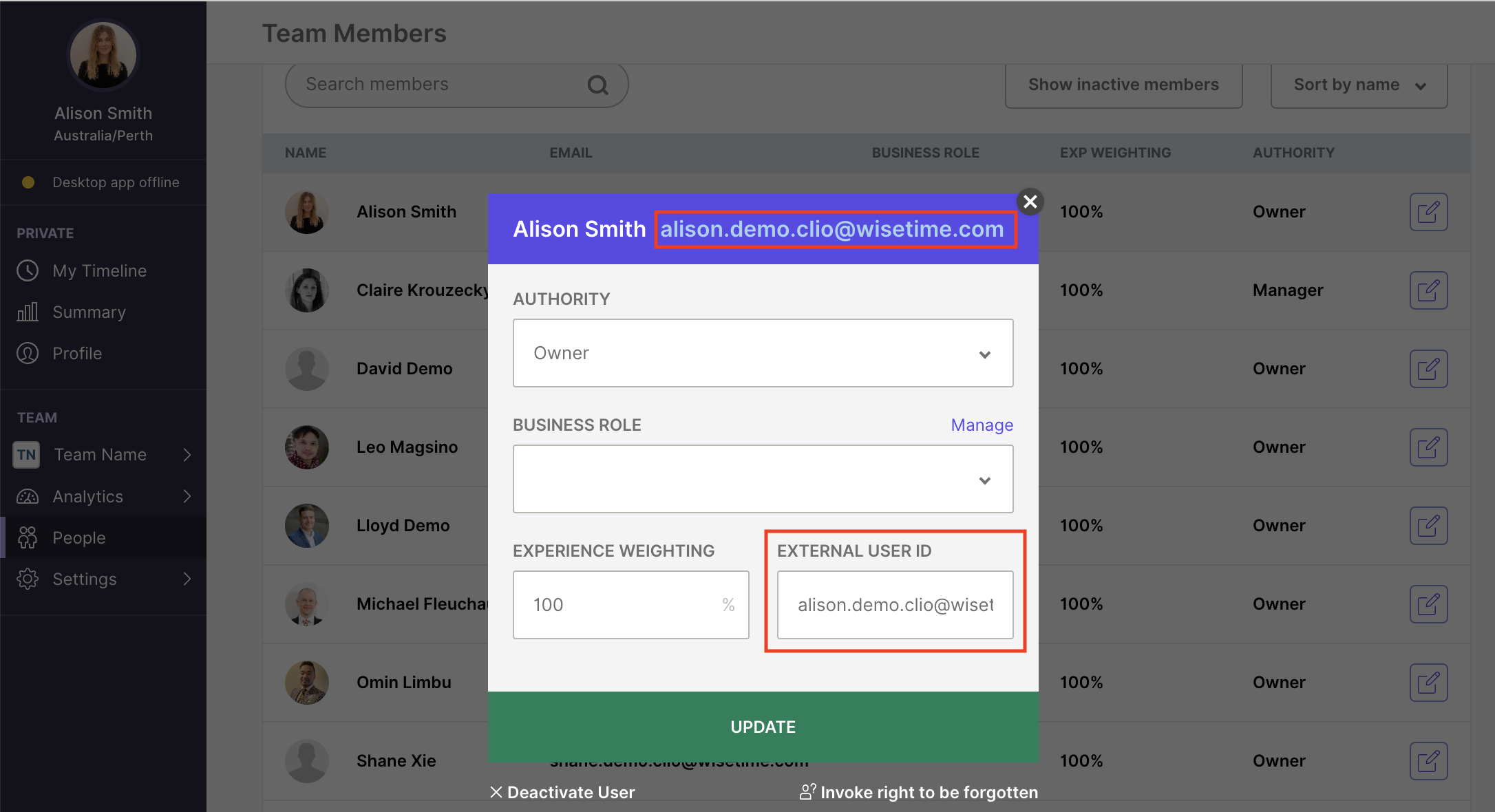 The time posted must have a tag. Without a relevant tag, WiseTime does not know where in your connected system to show the posted time. 
For Clio connections, you can try to re-authenticate your connection from the team settings page by clicking on the settings cog. 
If you are a member of multiple teams, verify that you have posted time to the correct team.
Verify that your connection is active by going to the Team Settings page. A red circle next to the connection means that it is offline; a green circle indicates that it is online:

I don't see any activity or time in WiseTime Console.
You will want to verify that you have:
Installed the WiseTime software on your computer.
Once installed, you will want to Run the software.
Once Running you will see the WiseTime icon  located in your system tray, which is located by your computer's clock, or in your menu bar if using Mac or Linux
Click on the WiseTime icon and verify that the software is not 'paused'. If it is, select 'resume' and it will start tracking your activity & time.
Last, click on the WiseTime icon and check when the last time the WiseTime App has synced with Console.
WiseTime notifications aren't appearing
Depending on your operating system set-up and preferences, your WiseTime notifications (eg. Add Manual Time prompt) may be blocked from appearing on your desktop. In both MacOS and Windows, WiseTime notifications will not pop up if you have activated Do Not Disturb (Mac) or Focus Assist (Windows 10) mode in your desktop settings. Notifications will, however, continue to be displayed in your desktop message centre or notification history, as well as the WiseTime app notifications pane.
Add WiseTime to Focus Assist Priority List (for Windows 10 users):
To access Focus Assist, open the Windows 10 Settings screen found on the Start Menu, then click the System link
Use the left navigation bar to click on the Focus Assist link
In the Focus Assist settings, beneath the Priority Only toggle button, click the 'Customize your priority list' link
Scroll to the Apps section of your Priority List and click 'Add an app'
Select WiseTime from the app list.
How to fix WiseTime.exe-application error (error code 0xc000007b)?
Navigate to the Programs folder on your Windows PC. In WiseTime installation folder, you can see a file called vcredist_x64.exe, double click that file to correct the runtime environment. Then, try run WiseTime again.