Team managers and owners will have access to the Team Members page, located in the right-hand sidebar of the Timeline, where they can manage the team members and their settings.
To invite new users to the team, click invite people (1) in the top right.

Member Authority Levels
To change the member authority levels, click on edit (2)

next to the relevant member. The authority levels available are:
Member: can access their own personal posted time reports from the Reports tab in the team menu but cannot view other team member data, team settings or member settings.

User admin: has the ability to access team settings but not team data. This is ideal for IT personnel that will manage users and team settings but shouldn't have access to the sensitive time data.

Manager: will have access to all team reporting and can view team member posted time entries. They can also view the team member page and have the ability to edit team member roles or invite new members. Managers also have read-only access to team settings.

Owner: has full control, with the ability to set and edit team settings as well as all other manager rights.
Business Roles & Experience Weighting
Business Roles are able to be set up by User Admins and Owners and can be assigned to team members by Managers, Owners and User Admins. These roles can be used to add more detail to the reports which can be used for billing, as well as to connect to integrated systems. You can also use them to filter the dashboard reports.  
Experience weighting is only used in connected systems. When you have an active connection, you can use this to determine the percentage of time that is posted to the connected system. For example, you can set a junior team member to have an experience weighting of 80%, meaning that 80% of their time will be charged at their hourly rate, as opposed to 100%. The way it is displayed in your practice management system depends on your particular system. Some systems have a concept of worked time versus charged time, in which case both the total original time and the modified time will appear in the connected system once posted. If this concept doesn't exist in your system you may only see the final time to be charged.
Deactivating a user
To deactivate a user, click the edit button next to the relevant user. A pop up will appear with the team member settings. Underneath the 'update' button you will see the actions to 'deactivate user' or 'invoke the right to be forgotten'.
If you deactivate the user, they will no longer have access to the team however their existing posted time will continue to appear in the reports. If you invoke the right to be forgotten the user will be disassociated from their data and instead turned into "Anonymous User". So their posted time will remain in the team, however it will be displayed in reports and team data as 'anonymous'.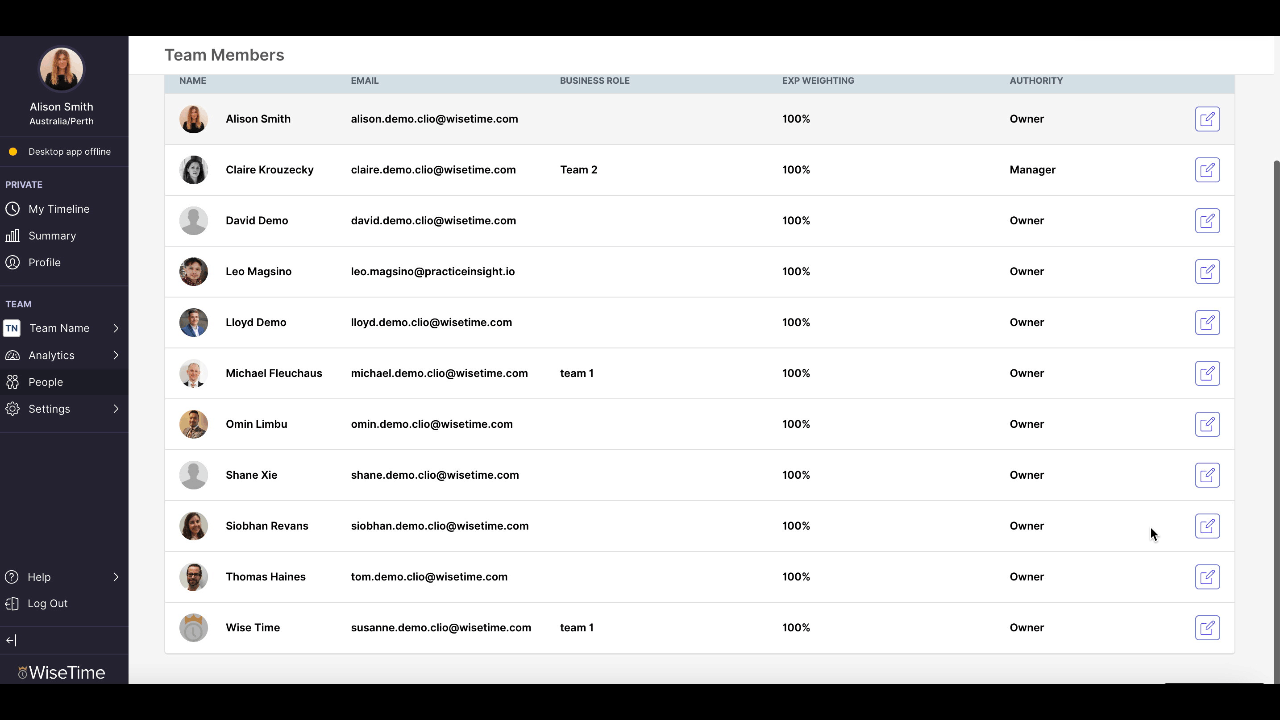 ---